The challenger?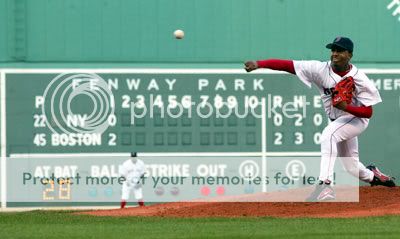 Yesterday
I looked at Roger Clemens' case to be the best pitcher of this generation. So far he is. Only slightly better than Maddux, but he's better. There are, though, a lot of great young pitchers, guy like Mulder, Hudson, Wood, Prior, who all have the talent to be better than Roger. Lest we forget about Ken Griffey Jr. its dangerous to start talking about what a kid in his mid-20s can accomplish if he only stays healthy. So right now, the pitcher with the best chance to catch Roger Clemens, has to be
Pedro Martinez
. Take a look at what Pedro has accomplished compared to where Clemens stood through the same point of his career:
Thru Age 32      GS      IP     W/L   ERA  WHIP    SO    K/9  CG SHO  ERA+
Pedro Martinez  298  2142.6  170-70  2.62  1.02  2489  10.46  41  15  174
Roger Clemens   325  2393.3  172-93  2.93  1.12  2201   8.28  94  36  148
Pedro's career numbers
have been better than anyone in his generation, and possibly in history. This is a little bit misleading because Pedro hasn't yet pitched through his "decline" years like Clemens or Maddux. So his numbers are heavily skewed by his career peak and are likely to go down as he ages. However, the difference between Pedro and anybody else is huge and Pedro would need a lot of ineffective pitching to move down the list. His
career ERA+
of 174 is miles ahead of anybody else, the difference between Pedro and the #2 guy,
Lefty Grove
, is the same as the difference between Grove and the guys tied for 78th all-time.
Pedro also has won three Cy Young awards, and is one of the three pitchers (
Gaylord Perry
is the third) to win one in both leagues. He won the pitching triple crown in 1999 and would have won the MVP award if a single writer from New York hadn't left him completely off the ballot. Has led the league in ERA five times, led the league in strikeouts three times and finished in the top 10 for ten years in a row. Has won 20 games twice and is third all time with a 71.2 winning percentage, behind a guy who pitched in 1877, and Spud Chandler who pitched on a Yankee team that won the World Series in six of his ten seasons.
Pedro doesn't have the complete games of Roger or Maddux, but nobody on the active list ahead of him is younger than 35. Through age 32, Clemens was in the top 10 in complete games seven times, and Pedro has been there five times. In slightly less starts (remember he started off as a reliever) Pedro has started off better than Clemens. Pedro's peak value was much greater than that of Clemens, so he really only needs to achieve slightly less overall value. The real question is whether or not Pedro can last long enough. It doesn't look good as Pedro has already had to drastically alter his pitching strategy to help keep his arm healthy. He has gone from having the most devastating repetoire of pitches, to
merely
being Greg Maddux with better stuff.
While Pedro has proven he can still be very effective, he has only been able to pitch 180-200 innings. At 32, he would still need ten more healthy seasons in which he averages thirteen wins to catch Clemens' totals. I can't see him holding up that long but realistically if Pedro pitches six or seven more healthy seasons at his current level of performance, he'll get to ~3500 innings, close to 300 wins, and I'd say he has an excellent chance to pass Clemens in terms of overall value.
Curt