A Yankee??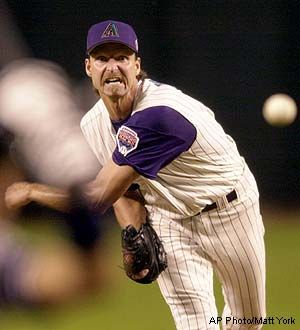 The
third best pitcher
of this generation, and one of the five best so far this season is on the trading block.
Sort of.
I usually don't like talking about potential trades around this time of the year. So much of what we hear is based on speculating sports writers and far-fetched rumors. The
Randy Johnson
rumors are a little different.
The soon-to-be 41 year-old hasn't slowed down very much. In 22 starts this year, Randy is 10-8 with a 2.68 ERA. Randy has forced everyone to forget his injury riddled 2003 and forget that he is under contract with the Diamondbacks next year.
Randy has a no-trade clause, which he seems pretty reluctant to give up. He has said he will only go to a team definitely making the playoffs. At this point of the season, with two months still to play, that means the Yankees or the Cardinals. The Cardinals don't have the money, so recently
Randy has said
he would only accept a trade to the Yankees.
What Randy fails to realize is that whatever team he goes to INSTANTLY becomes a contender, and I don't mean for the playoffs. I mean the whole thing, the World Series.
Pick any team within sniffing distance of the playoffs: Red Sox, Twins, White Sox, Rangers, A's, Angels, Braves, Marlins, Phillies, Cubs, Dodgers, Padres, Giants. Replace any of those teams 5th starter with Randy Johnson and they not only make the playoffs, they are the favorite to win it all. The last time someone this good was available at the trading deadline was in 1998 when Randy was traded to the Astros for
Freddy Garcia
,
John Halama
, and
Carlos Guillen
. At the time of the trade, the Astros were already a good team, on pace for 97 wins. Instead they finished the year with 102 wins and a playoff spot. The offense then scored eight runs in four games to get the early exit.
Maybe Randy doesn't want a repeat of 1998. Maybe he doesn't want to pick up and move to a new team for two months only to miss the playoffs or get bounced in the first round. I can understand that, but Randy doesn't really give Joe Garagiola much choice in only picking the Yankees.
I'm going to say that Randy is better now than he was in 1998, but he is also six years older. Considering that, the Diamondbacks would be reasonable to expect a package of prospects similar to the one the Mariners received. At the time of the trade, Carlos Guillen was B-level middle infield prospect and John Halama was a mid-level pitching prospect. Freddy Garcia was highly regarded, and as it turns out, for good reason.
Now in the present day, the Yankees don't have a prospect anywhere close to the caliber of 1998 Freddy Garcia. The last survivors of the Yankee prospect purge are infielder
Robinson Cano
and catcher
Dioner Navarro
.
Check how they are doing this year
. Both started the year in AA, but were promoted to AAA after the Yankees were rumored to be showcasing them for a trade.
Both have struggled so far in AAA. Thats fine, a lot of players do struggle after a promotion, but these aren't exactly Freddy Garcia-like prospects. Cano might be as good as Guillen was, but I doubt it he will be more than a utility infielder. Depending on who you ask Navarro is either an A-level prospect or a fluke. I get nervous about a prospect when I see them come out of virtually nowhere, shoot up the prospect lists with a great year, then regress the next year to .271/.354/.369 at the same level. I tend to think Navarro is more of a fluke, although he is still a solid prospect as 21 year-old catchers who can hit are a nice commodity.
Are Cano and Navarro (plus assorted trash and AAAA guys) enough to get Randy? They will have to be since Joe Garagiola has no choice but to accept this as the best offer. It's the best the Yankees can come up with, so its the best the Diamondbacks will get. Randy has really put Garagiola in a bind, with no leverage to get any more in return.
If I were Garagiola, I wouldn't trade Randy. No way, not for that. The Diamondbacks have the worst record in baseball
with Randy Johnson
. Can you imagine this team without him? The fans are going to stop coming to the BOB soon. While Randy can't save that from happening, he can slow the bleeding. Garagiola should let Randy finish out his contract, and maybe his career, in Arizona. Who knows, if Randy retires after 2005, he might be the first person ever to go into Cooperstown as a D-Back. Think about it Joe, the ticket sales from Randy's starts and the value in saving yourself the fan resentment will easily be worth his $16.5M contract. Don't add this potential horrible trade to your resume of the Schilling, Sexson, Durazo, and Mantei trades. Yuck. Looking back on Garagiola's track record, I would be suprised if he didn't screw up this one too.
Curt