Lenny Harris: Pinch hit hero.
By LENNY HARRIS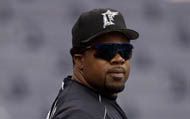 Hero.
Lenny Harris
. Somehow it just doesn't fit. Lenny F. Harris is a hero only when he writes the title.
This article
, by the good man himself, is a good read. Actually its comedic genious. Observe,
I've been in the big leagues since 1988. This is 2004. I'm sort of surprised that I'm still playing now....
Suprised? Well, hell Lenny, I'm suprised too. Your are a career .269/.318/.348 hitter. You've been around for 17 years, been with eight different teams, and none of them have figured out that you can't hit worth the paper and ink used to sign your contract.
The Mets and Reds have both acquired you twice, which speaks volumes about the intelligence of those two organizations.
But don't lose track. We're talking about Lenny F. Harris. Lenny "The Champion" Harris.
As for my World Series ring, I wear it all the time -- all the time. It's what everybody plays for. There's nothing like being a champion and that is something that I will have for the rest of my life now.
Yeah, as for the World Series ring. I hope you wear it all the time, good for you, and good for the Marlins for giving you 14 AT BATS!!!! I mean even though he
never played a postseason inning
, he did go 1 for 4 pinch-hitting in the postseason. I'm sure the Marlins are thankful for the presence of Lenny F. Harris on the roster. They surely would have fallen to the mighty Yankees had it not been for Lenny's
hitting
fielding
camaraderie.
Wear that ring with pride Lenny. I'm sure half the guys on the team were asking: "who the hell is that guy spraying me with champagne?"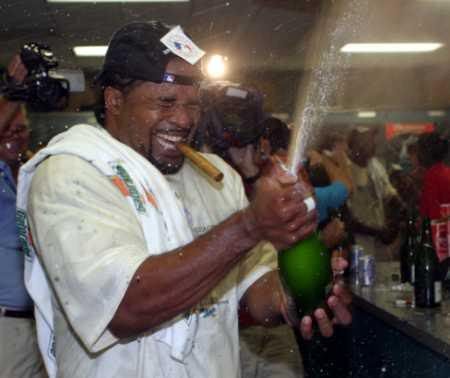 Honestly, Lenny is probablly a nice guy, probablly a fun guy to have around the clubhouse. Or something. Why would I care so much?
I care, because Lenny F. Harris, a.k.a. Captain Camaraderie, has been taking up a spot on a major league roster for 17 frickin' years, while guys like
Calvin Pickering
,
Brian Daubach
,
Marcus Thames
,
Bryant Nelson
,
Howie Clark
, or
Adam Hyzdu
toil away in the minors until they are 32 and give up on their dreams.
I'd tell Captain Camaraderie to just go away, but its not his fault. There are still idiotic GMs out there willing to lay $1M on the table for his
bat
glove
sense of humor.
Why not just pay the minimum for some AAA-lifer to give them exactly the same non-hitting bat off the bench? Who knows.
The Lenny Harris Fan Club can mailbomb Curt at
this address
.