Manny For MVP!
I'm officially starting the
Manny Ramirez
-for-MVP push.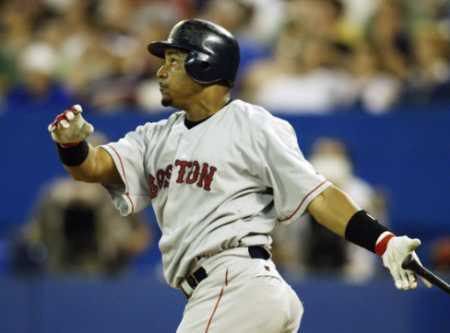 It amazes me that Manny has never finished higher than third in MVP voting. In every year from 1998 until now, you could make a legitimate case for Manny being the MVP. In 1999 and 2003, he probablly should have won it, or at least you could make a VERY strong case. In '99 he split the votes with teammate
Robbie Alomar
, and in '03 he split the votes with teammate
David Ortiz
. A lot of those votes for Ortiz came because of some big hits down the stretch, but how does Ortiz get 4 first place MVP votes, despite having an OPS 53 points less than Manny in 170 fewer plate appearances? It looks like Manny will get some more votes stolen (deservedly) by Ortiz again this year. That's too bad, Manny has been "unfortunate" to have played on good teams where he wasn't the only star, and its meant no MVPs.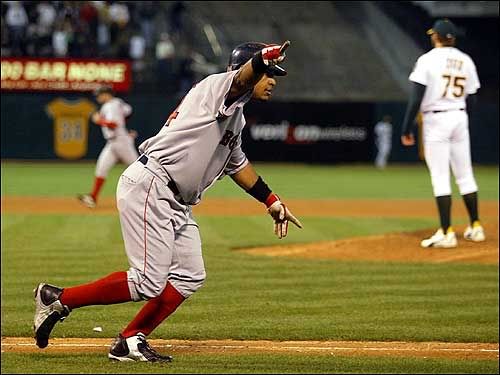 These things are just popularity contests anyways so why should I care? The MVP always goes to whoever the media decides to promote that year. Witness Tejada over Arod in '02 and Ichiro over Giambi in '01. There was so much hype surrounding those two that voters had no choice but to vote for them.
Ichiro will probablly win it this year. Arod proved that you don't need to be on a good team to win it, and there is going to be A TON of hype (mark my words) surrounding Ichiro's phony bid at breaking
George Sisler's
single-season
hits record
. Despite this hype, one of either
Vlad Guerrero
or Manny SHOULD win the MVP. I wouldn't mind if Vlad won it, but like Manny, he's a quiet guy who everybody forgets about until he hits a three-run bomb to beat your favorite team.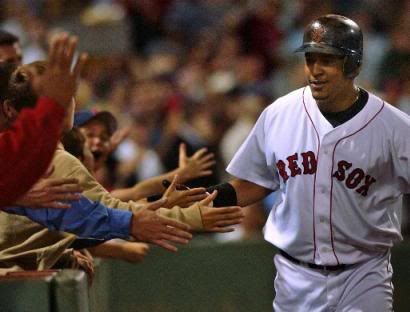 I still care though. Manny is one of my favorite players, and a lot of people take what he has done over the last 10 years for granted. Over the last 10 seasons, Manny Ramirez has been the best hitter in the American League. Arod has come close, but Manny's numbers have been better.
His career has been remarkable, and remarkably consistent. In his WORST year, he "only" hit .328/.415/.538. At age 32, Manny ranks 43rd all-time with a career BA of .317, 15th all-time with a carerr OBP of .412, 7th all-time with a career SLG% of .599. He's also climbing the
home run charts
rapidly. His 381 career bombs puts him tied with old teammate Albert Belle for 49th all-time. Manny's on pace for 10 more home runs this year, after which he will pass
Jim Rice
,
Frank Howard
,
Harold Baines
,
Dwight Evans
,
Johnny Bench
, and
Craig Nettles
. Some great company to be in, but really just some borderline Hall of Famers (besides Bench). Its after next season that Manny starts entering the fat part of that list. Nobody with more than 442 home runs (who is eligible) has been held out of the Hall of Fame (poor
Dave Kingman
). Manny could be there after two more healthy seasons.
Manny has a chance to go down as one of the best players to never win an MVP award. Although,
Honus Wagner
,
Tony Gwynn
,
Al Kaline
,
Dwayne Hosey
,
Eddie Murray
, or
Josh Gibson
never won an MVP, and I would rather be in that company than in the company of
Ken Caminiti
,
Terry Pendleton
, or
Thurman Munson
.
Check out Manny visiting Curt. Up there, in the top left corner, that's where I live. Not for long though.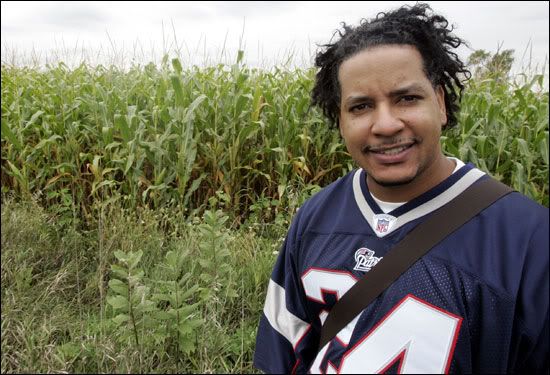 Curt