Wait 'till Next Year.....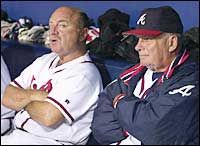 I think its about time to give Bobby Cox and Leo Mazzone their due. It amazes me how little credit these two get for putting a Braves team on the field that competes year after year. Any time I hear about the "Good" managers in baseball, Bobby Cox is always mentioned as an afterthought. As in, "oh yeah, that guy down in Atlanta is pretty good too."
Yeah, I'd say. Pretty good. Bobby Cox took over mid season in 1990 for an Atlanta Braves team that finished the year 65-97, and with the worst record in baseball. The very next year, the first full year under Bobby Cox, the Braves won 94 games and made it to the 7th game of the World Series.
Granted, Cox did have a young
Steve Avery
,
John Smoltz
, and
Tom Glavine
stepping into the rotation, not to mention a young
David Justice
who would all anchor the lineup for the next several years. But that turnaround is nothing short of spectacular when viewed in the light of the TWELVE straight division titles that followed.
Under Bobby Cox they've gone 1374-846 including this year. They also look like they're about to wrap up division title #13. Ever since they squeaked out division title #10 in 2000, people have been predicting their demise. Not going to happen. At least not yet.
Where has it come from? To be completely honest, I didn't see how the Braves would do it this year. After looking at their team I still couldn't figure it out. They don't have a very deep staff, their lineup has holes up and down, and has suffered through injuries to key players. How has this team opened up a 7 1/2 game lead on the rest of the NL East? One reason. Its a simple answer but its the single reason the Braves are heading to the playoffs.
The Braves have absolutely DEMOLISHED the rest of the NL East this year. I mean really. If you look at
the standings
, you'll see the Braves at the top, the Expos at the bottom, and three clubs playing .500 ball, but what you see if you look closer is the Braves record against the NL East,
           Record Vs.
Florida        9-4
Philadelphia   7-6
New York       8-3
Montreal      10-3
Total         34-16
The Braves are 37-37 against everybody else. What's wrong with the rest of the NL East? Or what's right about the Braves? It very well could be some freakish occurence. In fact, it pretty much looks like it. Luckily Bobby Cox has been around a while, and we have a lot of data. Since the switch to the three divisions in 1994, the Braves have done the following,
              Record Vs.
Florida         79-65
Philadelphia    86-55   
New York        80-61
Montreal        92-50
Total NL East  337-231  .593
Everyone Else  966-562  .632
So they actually have done worse against the NL East over the years, and this is just some freak occurence.
There is something, however, that I hate to admit looks like its not a freak occurence: Bobby Cox' teams
consistently
outperform their
Pythagorean winning percentage
. Since 1994, his teams have won 25 games more than their Pythag's would suggest. Compare that to a couple of other managers who've been around for awhile, and also to a few of the all time best,
             Seasons   Pythag Diff.
Bobby Cox        10       +25         
Joe Torre        22       +18
Tony LaRussa     26       -1
Lou Pineilla     17       +6
Dusty Baker      11       +16
............
Connie Mack      51!      +26
Earl Weaver      16       +12
Casey Stengel    24       +4
Sparky Anderson  26       +20
John McGraw      18       -22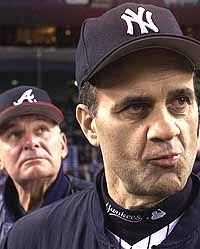 Now, I hate attributing this to a manager. What it usually tells us is that the teams that over-perform their pythag's are just a lot better winning the close 1-run and 2-run games, for whatever reason. MOST OFTEN its just luck. My question is when does it stops being luck, and starts to be a trend? For Bobby Cox, and also for Joe Torre's Yankees (+21 in 8 years as Yankee's manager) there might be some truth to it.
Lesson learned: Don't count the Braves out. Don't count the Braves out.
Curt