The ABSOLUTE worst pitching change in the history of baseball.....ever.
Last year we saw the worst NON-pitching change in the history of the game. This morning, Mike Scioscia has joined the halls of Grady "Gump" Little.
After watching Francisco Rodriguez
embarrass
the best lineup in baseball for 2-2/3 innings, after watching only one solidly hit ball, after watching K-Rod make Manny Ramirez (the best non-Bonds hitter in baseball) look like a AAA callup TWICE. After all that, Scioscia decides that a lefty/lefty matchup is in order. Fine. Only problem: Scioscia doesn't have a lefty reliever.
What he does have is Jarrod Washburn, only there's several problems with that option. Mainly, he already pitched game 1 and gave up 7 runs in 3-1/3 IP (including a walk and a single by David Ortiz).
But for the moment lets not worry about that, or the fact that K-Rod's numbers against lefties (.213/.299/.265) are better than Washburn's (.225/.277/.387). The real problem with the move is that Washburn sucks and Francisco Rodriguez is really really good.
So predictably we got a good
hefty
dose of Papi, Cookie Monster, Ortizzle. Choose your own nickname, but I give you: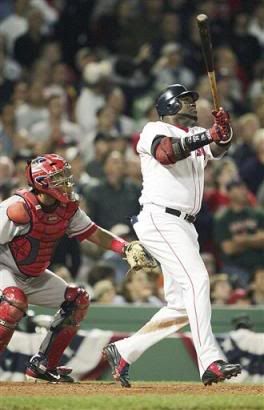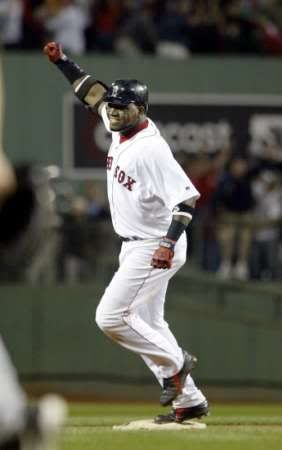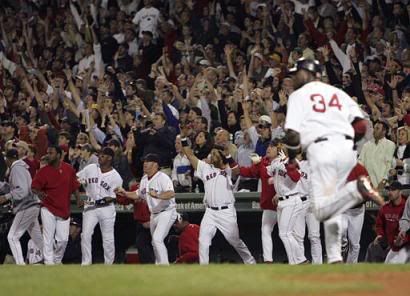 The Red Sox sweep. Arroyo pitched great, arguably better than Schilling, and just as good as Pedro. Tim Wakefield
knew this would happen
,
Playing in front of our home crowd gives us a huge advantage and I look forward to Bronson Arroyo pitching a masterpiece in Game 3 at Fenway Park..........I think performing on the bigger stage isn't going to affect him at all.
And it didn't. The Angels are a pretty good team, but Vlad can't pitch. And in the playoffs, only a pitcher can carry a team. Not even a bullpen can do that. After hearing so much about the Angels pen, and how that ensured close games, the Red Sox put up 10 earned in 15 innings of Angel relief pitching. After going 5-1 in the 2002 playoffs, Frankie Rodriguez is now 0-2 in this one.
All three of the Red Sox starters will be rested. Wakefield will be ready out of the pen, if any game should go to extras. The Twins will have more to say, throwing Santana at home to avoid elimination, forcing a game 5. Let Quantrill, Gordon, and Rivera pitch in two more games, and let the four-trick Twins wear out Santana, Radke, Nathan, and Rincon. Either or, Yankees or Twins, makes no difference to me. The Red Sox will enjoy watching those games on TV, waiting to see where they fly off to, in preparation to walk all over their next opponent.
It sure looks like its going to be Red Sox/Cardinals, but lets not get too far ahead. There are still plenty of games to play, mainly three big ones today. The Cards could clinch, the Astros and Braves are tied at 1, and the Yankees could clinch, but would have to go through Johan Santana to do it.
Starting Santana is either really really smart, or really really dumb. You have to win two games to advance, Santana will pitch one of those, but it's a lot to ask from a young kid with injuries in his past, and a cautious work usage in his present. If this doesn't work out for Ron Gardenhire, there is potential for two new inductees in the Grady Gump Hall of Champions.
And just one more: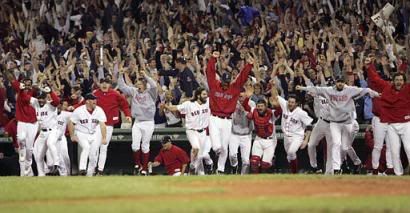 Curt