Game 1 and assorted digressions........
The two highest scoring offenses go head to head, and both teams have tired pitching staffs. Something tells me we will see a lot more games end 11-9 than 3-2.
The defense was pretty wretched in this game. It looked like a little league game at times with balls thrown in dugouts, ground balls eating up infielders, and two horrendous back-to-back errors by Manny.

It's a good thing the Red Sox won the game, otherwise no one would ever had forgiven Manny for botching those two plays. Boston fans have a tendency to do that.
For all the talk of how good the Cardinals lineup is (I still think the Yankees lineup was much better) they still sent Marlon Anderson, Yadier Molina, and Roger Cedeno to the plate as their last three hopes.

Not exactly much of a hope against Keith Foulke, who still hasn't given up a postseason run despite giving up two hits tonight.
Truthfully, the Cardinals offense scares the heck out of me. I don't have any confidence in anyone out of the pen not named Foulke. Maybe Bronson, who has looked good, but they got to him tonight.

I also don't expect Pujols, Edmonds, and Rolen to go 1 for 12 again, nor would I expect the three to leave 12 men on base by themselves.
Quick update on David "MVP" Ortiz' postseason numbers in 11 games:

.458/.574/.917 with 6 HRs, 12 Rs, and 23 RBIs. In 11 games.

Wow.
It is amazing to me that people in Boston still think Mark Bellhorn is a bad player. Even after a game winning home run tonight and another homerun to deflate the Yankees comeback on Wednesday.

I heard people tonight talking about how Todd Walker is a much better player. I politely disagreed, but decided not to make an issue out of it. It's not even close, even leaving defense out of the equation.

Get over the striekouts already, why can't people look past that? Take a look at the career strikeout leaders. Out of the top 20 are 8 Hall of Famers, 5 others that will definitely be elected, and a number of other borderline Hall of Famers, or at least members of the Hall of Very Good.

Yeah, Bellhorn strikes out a lot. But he also plays a solid second base, hits with good power for a middle infielder, and gets on base 37% of the time. Even in this postseason, when everybody sees that he is only hitting .200 when it flashes on the screen, they don't remember that he has walked 12! times or that he has hit 3 home runs. Or maybe people just don't like him because he exudes an abnormal amount of grease.
One last thing, this series is going to be great, if for no other reason than we are guarranteed to see the David Ortiz vs. Ray King matchup at least a few more times.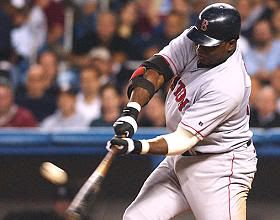 vs.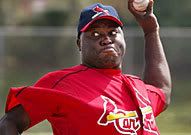 Classic.
Tommorrow its Schilling on the bump against Matt Morris. If Schilling is as healthy as he claims, the advantage clearly is with the Red Sox, but my guess is it will once again come down to whose offense and bullpen steps it up.
vs.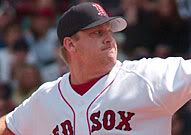 Curt