It's almost too easy......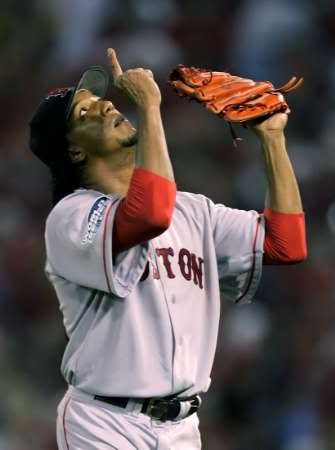 What's going on?
This has really been
too
easy. Just a little bit anti-climatic after the Yankees series.
All of which causes apprehension. I can't explain it, but that's the life of a Red Sox fan. The Red Sox have peaked as a team, the Cardinals have laid down quietly in three straight innocuous games, the Red Sox are one game from winning the World Series, and while all is good in Red Sox Nation, I am worried.
And I'm not the only one.
Is it negativity? Is it conditioning? Is it a self-defense mechanism? I don't know why, and I don't know if a win tommorrow would change it. I hope it would, because right now I have to honestly say I am confused.
If someone WERE scripting basball, and the Red Sox WERE to continue on their path of coming ever so close, what better way to keep the pain than by having the first team ever to come back from a 3-0 deficit lose the World Series in 7, after being UP 3-0.
"You can't script October."
I'll believe it when I see it. Until then I'll continue on with that uneasy pit in my stomach that just won't go away. If it were any other team, I'd tell them to take a couple days off and win it in Game 6, at home, in front of the fans.
With this team, though, I couldn't handle the stress. I'm calling on D-Lowe to end it now. One more sleepless night I can handle.
One more.
Curt