It's Lima Time??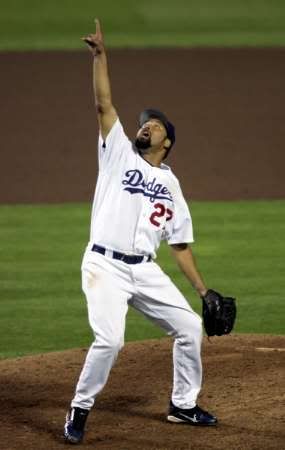 Jose Lima
says it was the atmosphere in Dodger Stadium
that helped him shutout the best-lineup-in-baseball Cardinals on Saturday night.
I don't doubt him.
That crowd on Saturday night was amazing, and Lima definitely fed off the energy.
This game
turned out to be the most exciting game of the playoffs so far. Who would have thunk it? Jose Lima: 9 innings, 5 hits, 1 walk, 0 runs.
Let's take a moment to remember Jason Schmidt's
3-hit shutout
or Josh Beckett's
2-hit 11-strikeout masterpiece
or his
gem to close out the Yankees
in 2003. And that was only last year.
This is exactly what I love about the playoffs so much. A pitcher, ANY pitcher, can turn in a performance like this and carry a team on his back. Hell, a pitcher goes out and throws a game like this and he carrys an
entire city
on his back.
Jose Lima did exactly that. He may have been an unlikely candidate, but that crowd in Dodger Stadium on Saturday was something to die for. Let's hope it can carry over to tonights game, as the Dodgers look to force a Game 5 in St. Louis.
I'm a sucker for great pitching. Old fashioned? Boring? Maybe, but I would much rather see a 1-0 pitchers duel than a back-and-forth, 5-lead change, 9-7 rumble.
Jose Lima's gem on Saturday may not have been 1-0, but on the biggest stage of all, it doesn't get much better than that. He was hitting his spots, he pitched with confidence, and when he needed it, the crowd was right there to remind him of what
most
ballplayers play for.
Curt