One down, 10 to go......
Red Sox: 9, Angels: 3.
Overall this game was actually pretty boring. A matchup of
Curt Schilling
and the best offense in the AL, versus
Jarrod Washburn
and the 7th best offense in the AL looked pretty lopsided on paper. The game ended up that way. I'll take a boring game though, with absolutely no complaints.
At first pitch, Angel Stadium was still half empty. I wonder if the same will be true in Boston. Prediction: There will be more fans in Fenway for batting practice on Friday. Prediction that will never be tested: There
would have been
more staggeringly drunk fans at Wrigley Field for first pitch than the total number of fans, drunk or sober, at Angel Stadium for first pitch. I don't care if the game did start at 1 PM, if it started at 4 AM you could expect the same.
On that note, starting a game at 4:00 should be a crime. Not to mention at 1:00. You should have seen the chaos driving in Boston as everyone tried sneaking out of work at the same time.
Courtesy of the ESPN announcing crew (Tony Gwynn is cool, but Chris Berman can go to hell for all I care, wheres the love for Jerry Remy?) the Angel's best right-handed pinch hitter is Adam Riggs. This
Adam Riggs
? I think Adam Riggs might be the worst player currently on a postseason roster.
Without
Manny
, the Red Sox offense would be merely good. Without
Vlad
, the Angels offense would be wretched. Either Vlad or Manny is the AL MVP, depending on your individual definition of the award.
But that doesn't matter now. Why, it's the playoffs, and the Angels have to wonder if they have the personnel to be able to compete with the Red Sox. Vegas lines have tommorrow's game only at -120 for Boston, and it seems popular to be picking against Pedro. If you promise to not be suprised when Pedro spins a gem, then I'll promise not to come in this space tommorrow and say "I told you so".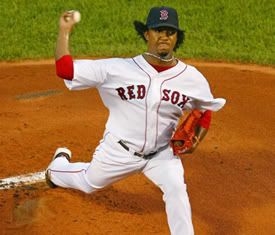 vs.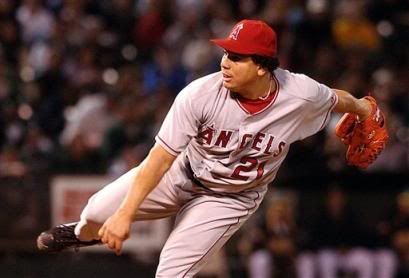 It's the vintage Afro of
Bartolo Colon
on the bump tommorrow against the vintage Jerry Curl of
Pedro Martinez
. The Rally Monkey against
Nelson de la Rosa
. You couldn't script this story.
Twins: 2, Yankees: 0.
Why MLB insists on scheduling only one game at a time is beyond my level of comprehension. Shouldn't their goal be acheiving the highest ratings possible? Are they really going to get more people watching games at 1:00 in the afternoon? Aren't 85% of the country at work at that time? And aren't
the other 15% of the people
at Wrigley, and the Cubs missed the playoffs. Makes no sense.
Regardless, I was only able to see two games last night (and had to listen to the beginnings of one as I cut off old ladies and ran down pedestrians in a mad dash home from work). This second one was a much better game than the first. I'm not too sure about the outcome though.
I can't decide if I want to root for the Yankees or the Twins. I want the Yankees to win because it just wont feel right if the Red Sox win without going right through that "curse" head on. The other half of me takes great pleasure at seeing the Twins--or any team--beat up on the Yankees. In fact, I get giddy as a schoolgirl when there is silence in Yankee Stadium. I love the look on New Yorkers' faces when they slowly file out of the Stadium in shock. Get used to that feeling you spoiled little brats. Mystique and aura, my ass.
Anyways, back to the game. Who's cooler:
Ruben Sierra
or
Julio Franco
? I'd say Julio just because he was born in the 50s, but Ruben is starting for the Yankees, a team that pride themselves on keeping people of character in the locker room.
Oh, that game? Well
Santana
wasn't at his best, and
Mussina
pretty much was, and the Twins still won game 1. I still like the Yankees to win this series, but if the Twins can win only one of the next three games, they'll have Santana going again in game 5. Even though the Yanks hit Santana pretty hard tonight, I'd really like the Twins chances if it gets to that.
Another Random Thought: how did
John Olerud
and
Gary Sheffield
end up on the same team? Even putting aside their opposing personalities for a second, their swings are exact opposites. Olerud has that smooth, effortless left-handed swing and Shef's righty swing threatens to send his arms flying out of their sockets at any moment. Both swings could win batting titles, and I love them both.
Lieber against Radke tommorrow. That game could go either way, but I'd be inclined to say the Yanks will not be shutout two night in a row.
Curt