Ramiro Mendoza is a SPY!!!!!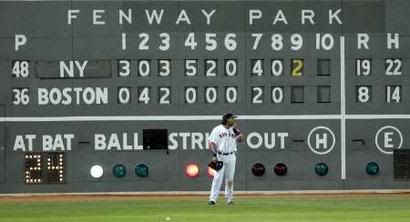 I have no reason to be gladdened by the sun and I take good care not to be. --Samuel Beckett
Time to sleep it off has not helped one bit. The 2004 Red Sox are the WORST team EVER assembled. My only new revelation from last night is that I am now questioning the choice to even be a sports fan.
It just doesn't make sense.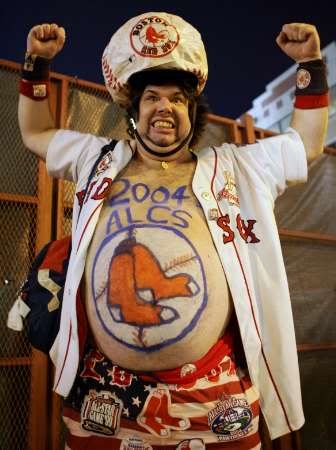 Why be associated with that guy? But better yet, why does that guy care so much?
Why do I?
Do we all need something else in our lives? Are we missing that much that we need to root for men who are paid to play a child's game? Why does it feel so good to win, but tear me apart so much when my favorite team just got embarrassed like Michael Dukakis.
And if it tears me apart so much when they lose, why the hell would I go on as a Red Sox fan?
Talk about your lack of logic, or reason, or common sense. Maybe I'm just that sadistic.
Go Cardinals.
What ever caused me to actually put faith in this man: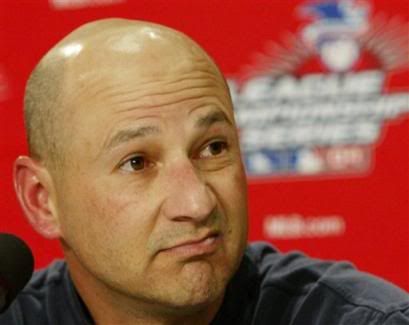 I would run, if I ever saw that boob on the street. With his Gomer Pile voice, and the slow hook, and the over-confidence in horrible relief pitchers.
With Curtis "Let's Panic" on the mound, and absolutely no idea how to stop the bleeding, I knew it was over. When you really get down to it, in my heart, I knew it was over before the season ever started.
The next Red Sox team I get excited for will be the one that gives me ABSOLUTELY NO REASON TO. The next Red Sox team that I root for will play like absolute shit for 162 games and will limp into the playoffs with scrubs and rookies and Placido Polanco at the helm. That team won't win a single come from behind win, won't have a single walk-off win, won't have done anything to get me excited. Wake me up when that team arrives, because they're going all the way.
I have come to the conclusion that if the Patriots weren't the greatest football team EVER assembled, my life as a sports fan would be over. It's just not worth it.
It's a good thing Hideki Matsui doesn't play for the Seahawks.
Why won't this season end? Derek Lowe pitches tonight. I boycotted his starts this season, he's bound to give up at least 8 runs, but to return to the (more famous) words of Samuel Beckett:
I can't go on, I'll go on.
Curt