Will David Wells have a heart attack in 2005?
R.I.P.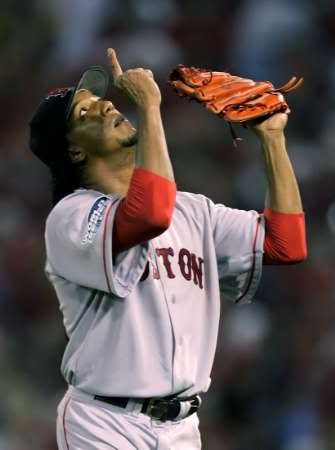 The votes are in. They're counted. The winner of the award for the worst timing in the history of the world, ever, goes to.....the Red Sox.
Why would you have a press conference to announce
David Wells
as your "big" free agent signing on the same day that
Pedro Martinez
signs the dotted line for the Amazing Mess v.2005?
Could the timing be any worse? Why not just have David Wells sit on my chest and end the pain? Well, in fairness, since I like Wells more than most, I think I ought to say that this is like replacing Halle Berry with Jeanine Garafolo as the next Bond Girl.
Regardless of how much I love Pedro, there still is good news. The good news is that Pedro had his worst year in 2004, and for those of you who missed it, the Red Sox won the World Series. Considering the biggest mass of innings the Red Sox have to replace is 400 innings of 4.50 ERA from Pedro and Derek Lowe, they aren't that far behind.
And with the $13M they were planning to pay Pedro, the Red Sox have no excuse not to improve next year. Sure, they would have improved with Pedro, there is no way he posts an ERA of 3.90 in 2005, but I still have a lot (probablly too much) faith in the Red Sox front office. When I heard the news of Pedro signing, I rubbed my W.W.T.D. bracelet and set out a plan. Actually a few. Flexibility is nice.
Sign Clement, Varitek, and Renteria. Easy. Work a deal for another reliever (not named Matt Mantei, thank you very much). Dont trade Dave Roberts. The Red Sox are a better team, and I don't even have a
law degree from USD
.
Or: Package Bill Mueller with Manny to the Mets for Floyd, some cash and oh, lets say, Jose Reyes. Then sign Clement and J.D. Drew, and then trade Floyd for a petrified turkey turd.
Or maybe let Varitek rot in L.A. and sign A.J. Pierzynski for peanuts, then use Varitek's money to sign Clement, Renteria, Drew, leaving Manny in left. Then the kicker: use Pedro AND Varitek's money to trade peanuts (Doug M) for Todd Helton (who is more untradeable than Manny or even Chan Ho Park at this point). Piece of cake. All I needed was my bracelet.
The Red Sox will win more regular season games with that team. Which team? I don't know, but it sure would be fun to be a GM with a very good team and $30M to spend.
Curt