Well now, its almost done. I can talk about it.
All types of people have been coming up to me and asking what I thought of the Yankees trading for Randy Johnson. What do I think?
Randy Johnson is tall. That's what I think. But would you want this mug pitching for your favorite team? Thats a face not even a mother could love.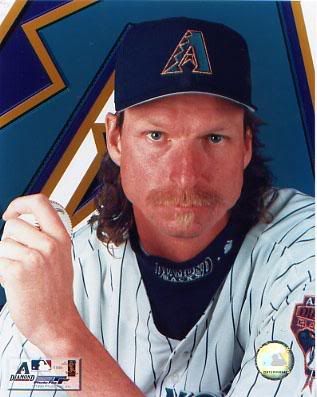 And that's a good picture.
Now on to a topic only partially related, take a look at the career paths of two semi-annonymous pitchers:
Pitcher V:
AG     IP    H/9   K/9  BB/9  HR/9    ERA
21   172.3  10.2   7.3   3.6   1.6   6.06
22   154.7   9.0   6.6   3.0   1.2   5.00
23   217.7  10.2   8.1   2.5   1.0   4.05
24   223.7   7.9   8.4   1.8   1.0   3.42
25   230.7   9.5   7.0   1.9   1.1   3.91
26   230.7   7.7   9.4   2.2   1.1   3.24
27   198.0   8.9   6.8   2.7   1.5   4.91
  
Pitcher W:
AG     IP    H/9   K/9  BB/9  HR/9    ERA
22   163.7   9.7   6.3   3.1   1.5   5.55   
23   200.0   9.2   6.1   2.3   1.2   4.32
24   229.3   9.2   6.0   2.7   0.8   4.08
25   199.7   8.7   6.0   2.2   0.7   3.52
26   159.3  11.9   5.3   2.7   0.9   5.99
27   220.0   9.0   6.3   2.7   0.8   4.01
Okay, throw out Pitcher V's age 21 season, which he should have spent in the minors. Then what do you notice?
Both pitchers took their age 22 season to get accustomed to the majors. Then they both established themselves as 3.5-4.0 ERA pitchers and were pretty consistent at that. All except for one year. The off-year for each happened at a year apart, outlined in bold, but what do those two years have in common?
Both bold (bad) seasons were spent as a Yankee.
If you haven't guessed who they are yet you haven't been paying attention. Pitcher V is Javy Vazquez, and W is Jeff Weaver. The similarities of their career path staggers me. I've made this comparison before. It was before last season, before Javy Vazquez flopped in New York. I was half-joking when I made the comparison because Vazquez (in my mind at the time) was a much better pitcher.
I didn't think Vazquez would flop, but I liked to raise the possibiltiy, if for nothing else than to get under the skin of Yankee fans. I really didn't think it would come true and Vazquez would have a horrible year in 2004, like Weaver in 2003.
If we look a little closer at the numbers we'll see how each pitcher met his pitching doom with the Yankees. Weaver gave up a hell of a lot more hits, while Vazquez walked a ton more people and gave up a ton more home runs.
And obviously, this is where the comparison ends. Vazquez and Weaver are, of course, two entirely different pitchers with two completely different pitching styles.
But condsidering I view walks and home runs allowed to be much more indicitive of a pitcher's true ability, Weaver looks a lot better moving forward. In fact, Jeff Weaver's age 26 season looks much more flukey than Vazquez's age 27 season.
Even after moving to a pitchers park like Dodger stadium, Weaver gave up the same number of home runs. I have a hard time believing that the huge foul territory in LA resulted in 3 would-be-hits becoming foul pop-outs. On the other hand, Vazquez isn't exactly going to like his homerun-itis down in Arizona where balls fly out of the park more than all but two ballparks. I wouldn't hold my breath waiting for Vazquez to rebound.
It's amazing how much difference a year makes, but what does this have to do with Randy Johnson?
Randy Johnson, have you met Kevin Brown. Allow me to introduce the two of you.
Curt