How far (and how quickly) can one man fall?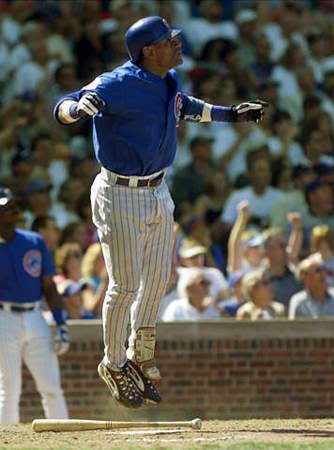 It's amazing to think that just a few years ago Sammy Sosa was the most popular person in Chicago not named Michael Jordan. Look at where he is now. An entire city's feelings towards that man can be summed up by the word 'bitter'.
Not that Sammy has anyone else to blame, though he can try to shift the blame elsewhere. Sammy brought it on himself. A gigantic ego is tolerable only when you deliver on your promises. Just like people put up with Tom Brady's cockiness so long as he keeps winning football games, people put up with Sosa's ego only so long as he was belting 60 homers year after year.
But even with all Sammy has done to piss off the once loyal fans, his prescence remains. The best evidence of the pockets of Sammy-resistance in Chicago is the simple fact that all the Baltimore series at U.S. Cellular Field Sox have already been sold out. It's not White Sox fans buying up those seats.
But how good will Sammy be in Baltimore? What will the tail end of a Hall of Fame career look like? Sammy Sosa will never regain his glory days, I think that ought to be clear to just about everybody. I don't think he even has a chance at being the best hitter on the Orioles next year. In fact, I would bet he might not even be an above average hitter next year.
League averages for a right fielder in the AL: .276/.344/.440. Sammy Sosa hit .253/.332/.517. I think he's probablly a lock to hit 30 home runs if he plays a full season, and he might hit 40, but I doubt Sammy will ever hit higher than .270, and he'll never even come close to that 100 walk plateau he was sitting at when pitchers were actually afraid of him.
Much has been made of Sammy's development. Some call it steroids, some call it developing some plate discipline. I don't care which, but Sammy's plate discipline was a direct result of him crushing the ball with any kind of regularity. Now that he's not, his usefulness as a player has plummeted.
Think of how many walks Sammy earned just by standing there and being Sammy. Pitchers were afraid of Sammy and worked with extra caution. Last season (and in 2003) nobody was scared of Sammy anymore, and everybody came after him. As a result, his walks and average plummeted, and his strikeout rate rose (21% in 2001 & 2002, 24% in 2003, 25% in 2004).
And its not just the intentional walks that bear this out. The intentional unintentional walks are what really boosted Sammy's numbers. Nobody is scared of Sosa anymore, and without the fear that made him one of the best hitters in the history of the game, Sosa will be a slightly above average right fielder.
It's too bad, the slow decline of a ballplayer can be a painful thing to watch. The sudden plummet of Sammy Sosa is even more painful.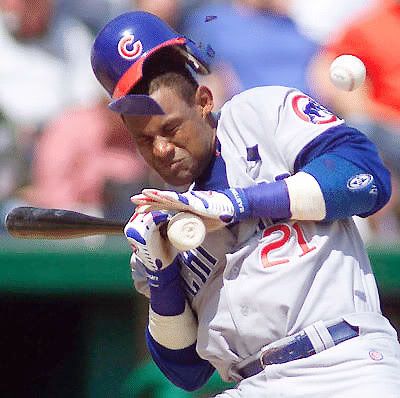 Curt